Towards sustainable development through geospatial technologies and remote sensing
Towards sustainable development through geospatial technologies and remote sensing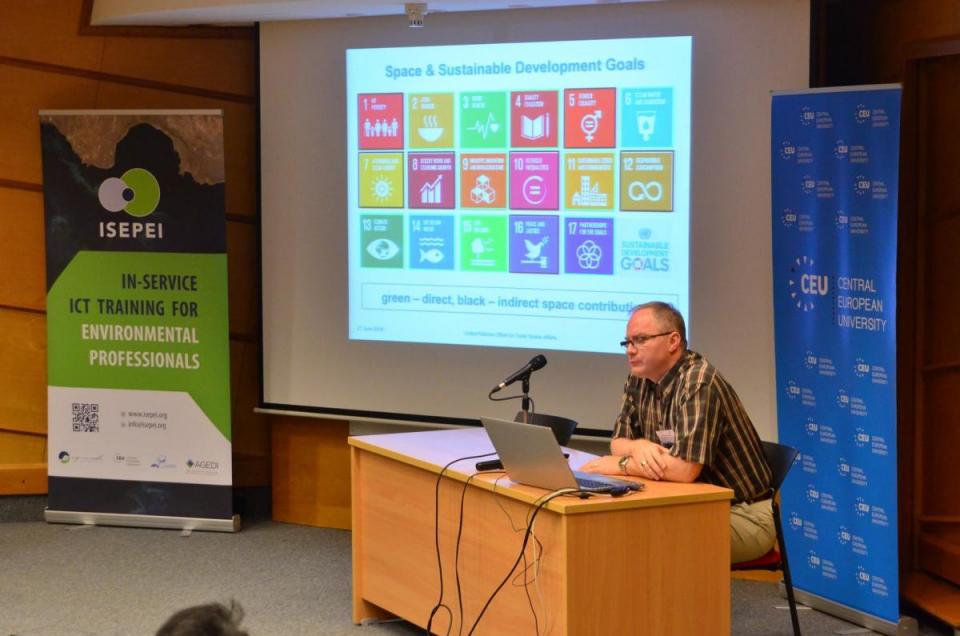 July 4, 2016 marked the beginning of the "Geospatial technologies and remote sensing for monitoring SDGs" summer workshop. Organized by Syslab within the ISEPEI Project in cooperation with CEU SUN, UNOOSA, DG Joint Research Centre and ESRI, the workshop aims to provide in-service education and professional training for environmental decision-makers and practitioners, who are in a position to greatly benefit from this data revolution to better shape management strategies and to make more informed, data-driven decisions.
The long-awaited start was ushered in by an opening ceremony and welcome remarks from course directors Viktor Lagutov (CEU, Hungary) and Lorant Czaran (UNOOSA, Austria), followed by a welcome speech from the Director of the Academic Cooperation and Research Support Office (ACRO) - Zsuzsanna Gabor (CEU, Hungary).
The first day of the workshop was led by global leaders in geospatial technologies, who reviewed latest achievements in improved data-driven decision-making and monitoring SDGs, such as satellite technologies and Geographic Information Systems. Loran Czaran (UNOOSA, Austria) has presented 2030 Agenda in achieving SDGs and introduction to the United Nations Office for Outer Space Affairs with a focus on the Space Appications Programme and UN-SPIDER. Followed by the presentation by Douglas Cripe (GEO, Switzerland) on the Group of Earth Observation in support of SDG monitoring frameworks. The workshop has ended with a final presentation of Ed Parsons (Google, UK) on the application of machine learning to global datasets.
The workshop will continue until July 8, with a number of speakers from well-known organizations (ESRI, DG Joint Research Centre, ITC, Szent Istvan University) covering a wide range of topics on geospatial technologies and remote sensing, as well as their application in the framework of the Sustainable Development Agenda. Participants from all over the world will have a chance to explore satellite technologies and GIS themselves through practical exercises and will receive certificates upon successful completion of the workshop.