Workshop on ICTs and Water Management
Workshop on ICTs and Water Management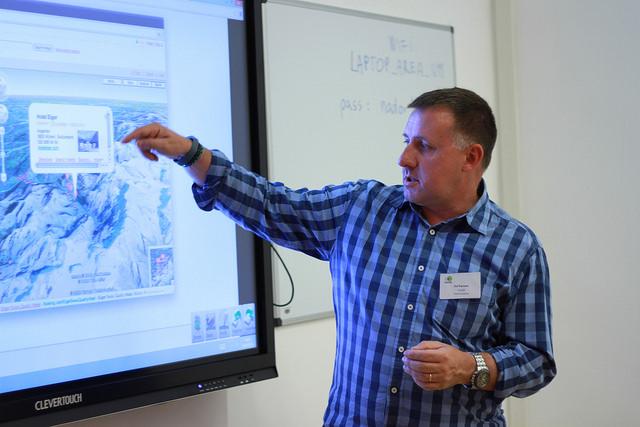 Representatives of organizations as diverse as the United Nations Environment Programme (UNEP), the Asia Foundation, WWF Azerbaijan, and the municipality of St. Petersburg, Russia came together at CEU last week to explore how information and communication technologies can enable them to improve water management and security practices. The CEU Summer University course, the first ever event held in CEU's new smart classroom, was led by Viktor Lagutov, head of the Systems Laboratory (SysLab) at CEU's Department of Environmental Sciences and Policy, and received support from many organizations including geospatial software company Esri, which generously donated tens of thousands of euros' worth of ArcGIS software licenses for use in this course and by CEU students and faculty in future.
"The purpose is not to train decision- and policy-makers but to show the opportunities, the potential that technology offers," Lagutov said about the course, entitled "Bridging Information & Communication Technologies (ICTs) and the Environment: Making Information Talk and Technologies Work." "This workshop focuses on water management issues in Europe, and the next in Jordan will focus on West Asia as we develop and test a toolkit on ICTs application in water management for the ISEPEI Project."
The course is a part of the ISEPEI Project (http://syslab.ceu.hu/projects/eoe_isepei) at CEU and serves as preparation for the Eye on Earth Summit 2015 (http://www.EoEsummit.org), which is devoted to enabling access to environmental and societal data for global leaders, decision-makers, and all those who need it.
The ISEPEI Project is supported by the Abu Dhabi Global Environmental Data Initiative (AGEDI) (http://www.agedi.ae) through the Eye on Environmental Education Special Initiative, one of eight initiatives that were announced at the inaugural Eye on Earth Summit in 2011.
Several initiatives developed under the auspices of the Summit contribute to the course: UNEP's Global Universities Partnership for Environment and Sustainability (http://gupes.org), of which CEU is a member, and case studies from three additional Eye on Earth Special Initiatives; Access for All, Disaster Management and Water Security.
The main idea of the Project is to establish a university-based platform for bringing together ICT-developers and environmental practitioners in the classroom to facilitate life-long learning and executive education. Various professional bodies both in ICT development and water management have already contributed to the project and have expressed their interest in cooperation, including: Google, Esri, United Nations Office for Outer Space Affairs (UNOOSA), and the United Nations Economic Commission for Europe (UNECE), among others.
The established partnerships and agreements for continued collaboration will boost CEU's research and teaching activities. The rapidly growing interest in geospatial technologies within the CEU academic community promoted by the Spatial Mapping and Analysis Research Group (http://syslab.ceu.hu/smarg) and the SysLab will be met through the continued development of CEU's technological capacity. Agreements have already been made between the SysLab and various specialized organizations (e.g. UNOOSA) to run joint courses for CEU departments. The technologies under consideration can be easily applied to other areas of CEU research and teaching, e.g. mapping geographic information, online data sharing, and distance learning in the Public Policy, Sociology, History, Economics, International Relations departments, etc. Researchers and students would benefit greatly from increasing CEU exposure to the modern technologies.
Among other sessions, a day-long Google workshop on July 8, given by Google Geospatial Technologist Ed Parsons, showed participants the possibilities enabled by Google Maps Engine https://mapsengine.google.com/map/.
"Google is keen on developing tools to allow people to publish the information they have," according to Parsons, "By the end of the day, these people will be able to publish mapped data, giving access to 10 million people. The key is that they understand how easy it is to get their data published."
In one exercise, Google's Parsons and students used a 70-inch interactive whiteboard to trace a lake in Kent, U.K., and calculate its area using Google tools. The whiteboard automatically projects onto a larger screen above it for maximum visibility across the classroom, and can be synchronized with individual devices in use in the room, such as laptops and tablets. There are two other flat screens in the room, which can be synchronized or used separately for group work. As part of its commitment to maximizing the teaching, learning and remote access benefits of new technologies, CEU plans to complete installation of a new advanced videoconference system in a dedicated classroom during the summer.
In another day-long workshop, Dean Djokic, a Water Resources Expert at Esri, a leading global geospatial software company based in Redlands, California, used real data collected from participants to illustrate how GIS can be used to model, calculate, and analyze data crucial for water management activities. As a result of Esri's generous contribution to CEU, current and future students will be able to use Esri's ArcGIS software products for their own research.
Though the latest technological developments have made vast amounts of environmental data available and affordable, utilizing their great potential is hindered by a number of factors. Some of the major obstacles are traditional prejudices and fears of technology among practitioners and researchers. The course aims to address these and give participants the tools to show their organizations and communities the value of using ICTs and of sharing data.
As a case study, Irina Makarenko of the Black Sea Commission's Permanent Secretariat outlined multilateral initiatives being taken in the region in environmental data gathering and management, plus monitoring and assessment tools. She also outlined challenges such as variations among countries in reporting and data flows, and differences in the sets of indicators used to assess the state of marine environment on national and regional levels.
Annukka Lipponen of the United Nations Economic Commission for Europe's Secretariat of Water Convention spoke about the importance of bilateral and common agreements on targets and use of water indicators.
"Water is a sensitive issue on a transboundary level," Lipponen said. "We need to illustrate the value of consistent data and up-to-date information for the management of water resources. There is enormous value in this information."
Lorant Czaran of the United Nations Office for Outer Space Affairs introduced the capacity building activities of the Office, as well as its mandated Programmes on Space Applications and on Space Technologies for Disaster Management. Examples on how space technologies - and in particular Earth Observation (EO) data - can be used for various environmental monitoring and natural resource management applications, including water management. Aspects of access to data, open data sources and data sharing were also discussed.
Many other interesting presenters spoke during the event including CEU's Academic Cooperation and Research Support Office Director Zsuzsanna Gabor, who discussed both European and global funding opportunities for ICT-related environmental projects, leading to agreements being made among participants to develop research proposals.
In the end, the course successfully brought together a diverse group of individuals and showed how ICTs and the use of environmental data can be used by environmental practitioners and policymakers in their daily work, all while developing a foundation of collaboration between CEU and the many organizations represented. There are plans to run regular ICT trainings for policy- and decision-makers at CEU, based on this initial course. Under the aegis of GUPES, a flagship programme of UNEP, the ISEPEI project will be showcased at the World Conference on Education for Sustainable Development, which takes place in Nagoya, Japan in November 2014, to mark the end of the UN Decade of Education for Sustainable Development 2005-14, and the launch of a Global Action Plan on Education for Sustainable Development.
Further information about AGEDI, UNEP, and the Eye on Earth activities:
About Eye on Earth Special Initiatives
Eye on Earth converges initiatives that address the challenges of increasing access to environmental, societal, and economic information. More specifically, Eye on Earth is facilitating the global convergence of world class thinkers, actors and capacity builders with a focus on resolving data and information gaps, blockages and needs as required for more effective decision-making towards sustainable development.
In December 2011, under the patronage of His Highness Sheikh Khalifa Bin Zayed Al Nahyan, President of the UAE, the Environment Agency – Abu Dhabi (EAD) in partnership with the United Nations Environment Programme (UNEP), convened global leaders, innovators and decision-makers at the inaugural Eye on Earth Summit in Abu Dhabi. Delegates committed to a suite of outcomes, including the Eye on Earth Summit Declaration and eight Special Initiatives. The Special Initiatives address major environmental issues and are categorized into five thematic and three foundational initiatives. The thematic initiatives are:, Biodiversity, Community Sustainability & Resiliency, Disaster Management, Oceans & Blue Carbon and Water Security while the three foundational initiatives are: Access for All, Environmental Education, Global Network of Networks.
In 2012, EAD, through the AGEDI, and UNEP established a Secretariat to support and facilitate the aims of Eye on Earth through the Special Initiatives. Each Initiative is comprised of stakeholders that form a global community of practice. Together, the Special Initiatives represent a major portion of the Eye on Earth community. Stakeholders are actively engaged in moving initiatives forward through exemplary projects that demonstrate the guiding principles of the Eye on Earth Declaration.
Through the Eye on Earth Special Initiatives process we provide opportunities for:
Developing networks and partnerships
Addressing common needs for content development
Sharing tools, technology and infrastructure
Adding value to your current projects through incorporation of new ideas
Accessing good practices, protocols and standards
Participating in pilot activities
Replicating successful outcomes in other countries and regions;
For more information, visit www.EoEsummit.org
About Abu Dhabi Global Environmental Data Initiative (AGEDI)
Inaugurated in 2002 by H. H. Sheikh Khalifa bin Zayed Al Nahyan, President of the United Arab Emirates, the Abu Dhabi Global Environmental Data Initiative (AGEDI) was formed to address the need for readily accessible, accurate environmental data and information for all those who need it. Supported by Environment Agency – Abu Dhabi (EAD) on a local level, and championed by United Nations Environment Programme (UNEP), regionally and internationally, AGEDI works to bridge the environmental data and information gap between developed and developing countries, and facilitate and enhance the information exchange for more effective, accurate environmental decision making. For more information, visit www.AGEDI.ae
About Environment Agency – Abu Dhabi (EAD)
The Environment Agency – Abu Dhabi (EAD) was established in 1996 to preserve Abu Dhabi's natural heritage, protect our future, and raise awareness about environmental issues. EAD is Abu Dhabi's environmental regulator and advises the government on environmental policy. It works to create sustainable communities, and protect and conserve wildlife and natural resources. EAD also works to ensure integrated and sustainable water resources management, to ensure clean air and minimise climate change and its impacts. For more information, visit www.ead.ae
About United Nations Environment Programme (UNEP)
UNEP is the designated authority of the United Nations system in environmental issues at the global and regional level. UNEP's mission is 'to provide leadership and encourage partnership in caring for the environment by inspiring, informing, and enabling nations and peoples to improve their quality of life without compromising that of future generations'. UNEP is headquartered in Nairobi, Kenya. For more information, visit www.unep.org
About GUPES
The Global Universities Partnership on Environment for Sustainability (GUPES), is one of the flagship programmes of UNEP's Environmental Education and Training Unit (EETU). GUPES was the result of a consultative forum organized by UNEP and its partners in Nairobi, on November 19, 2010 to deliberate on ways of escalating UNEP's engagement with universities. It builds on the successes of the Mainstreaming Environment and Sustainability in African Universities (MESA), the nascent Mainstreaming Environment and Sustainability in the Caribbean Universities (MESCA) and the Asia-Pacific Regional University Consortium (RUC). At present, over 430 universities and regional partners/focal points from five different continents are part of the growing GUPES network. GUPES is one of several projects supported within the framework of the Eye on Environmental Education Special Initiative. For further information visit: http://www.unep.org/training/programmes/gupes.asp
- See more at: http://envsci.ceu.edu/node/576
https://www.flickr.com/photos/ceuhungary/sets/72157645289868237